Expanded Lessons

Time required per lesson: 40-50 minutes


If you have three teaching sessions available, and want to engage participants more deeply in these topics, the curriculum is broken out into three stand-alone Expanded Lessons that can be completed sequentially in separate sessions.

Expanded Lesson 1: Culprits in the Backyard

Expanded Lesson 2: Using "Cool Tools" to Solve Mysteries

Expanded Lesson 2 offers two types of activities: paper-based and hands-on. By providing different activities, it provides the opportunity for the leader to repeat parts of the Expanded Lesson to give participants more exposure to its content.  

Expanded Lesson 3: What's the Culprit?
How the Curriculum Works
This curriculum is intended for participants in grades 5-7. The curriculum adheres to National Science Education Standards in Life Sciences. Activities are organized for 8 to 20 participants. The curriculum features four different mysteries in the backyard, represented by four different panels.

For each panel, a subgroup of participants have to identify the problem – what doesn't look "right", i.e., wilting plants, a sick animal, a friend who looks ill and a dying fish.
The mystery challenge is to figure out what "culprit" or pathogen is responsible for the problem. Participants will be introduced to several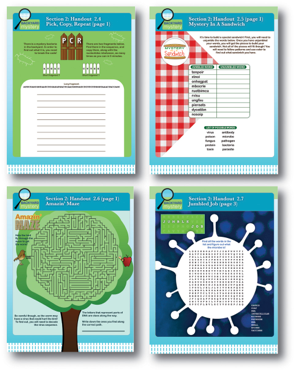 "cool tools" that can be used to win pieces of a puzzle that will help them identify the mystery culprit. These tools can be explored with either hands-on or paper activities. Participants will also learn about what careers they could pursue related to curriculum content.
The curriculum is designed in two formats to accommodate different afterschool learning situations: Expanded and Combined.
Each lesson provides the following extras:
Math Box
Math questions related to the subject matter covered in the lesson (available only in Expanded Lessons)

Beyond the Backyard
Each lesson provides a list of links to online resources that participants can explore on their own.

Glossary
Definitions of terms used in the lessons.

Handouts
All printouts the leader needs, using bright and colorful graphics that also translate well in B&W.

ORDER CURRICULUM

Combined Lesson

Time required: 1-1.5 hours

The Combined Lesson covers all major topics in the Expanded Lessons but in less detail. It is broken out into three sections. 
Section 1: Culprit's Spell

(20-25 minutes)


Section 2: Cool Tools Solve Mysteries
(30-40 minutes)
Paper-based activities only are offered in Section 2 of the Combined Lesson, while both paper and hands-on activities are offered in the Expanded Lessons.
Section 3: What's the Culprit?

(15-20 minutes)