This interactive activity, mimicking contemporary juice bars, stands alone or can accompany the Foods display. It teaches that DNA and genes are a natural part of our every day lives. Bar includes materials needed for DNA isolation: blender, reagents, colorful beakers and tubes, and an educational handout.
Juice bar is available on loan. Please click here to arrange a reservation. The "How Much DNA Do You Eat" module is also available separately.
An extraction method for strawberry DNA is also available (Download PDF).
Instructional Video - click to watch!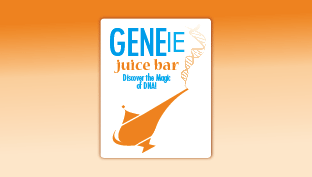 Additional DNA extraction information:
Steven Ruzin, Biological Imaging Facility, UCB: Isolating DNA from Veggies (9MB)
(downloadable movie file: Mac (hqx: 13.3MB); PC (zip: 9.6MB). Strawberry DNA extraction (PDF).

Partial funding provided by the American Society of Plant Biologists. Design by B. Alonso, with thanks to: Dr Amanda J. Able (Molecular Plant Breeding Cooperative Research Centre), Ms Belinda Barr (Australian Centre for Plant Functional Genomics), and Dr Heather Bray (Molecular Plant Breeding Cooperative Research Centre).