Available on loan:

Teaching Aids: Handouts and cards available, in both English and Spanish.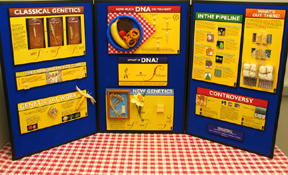 Educational displays: "Genetics and Foods"
and "Genetic Diversity and Genomics" available with companion educational cards and teacher worksheet in English and Spanish.
Gene-IE Juice Bar: Interactive activity to isolate DNA from common fruits and vegetables.

Tic Tac Grow: Educational game to teach what foods come from what crops.